Are you one of the crafty peoples that loves to participate in Online Crops? Do you like making new blog friends? Well, if that is something you would like to do this week, come join Maryanne and a lot of other fine ladies over at
Scrappy Gifts Online Crop
! It begins on Thursday, June 23 and will run through until Tuesday, June 28!!!
Maryanne happens to be the first person I had the pleasure of becoming blog friends with. Who knew that one invitation through Etsy, could lead to a wonderful friendship with her. I have participated in her Online Crops over the last several months and have had so much fun!
Maryanne, you are wonderful. While you are stopping by to sign up for the Online Crop, be sure to drop by Maryanne's
wonderful store
and take a peek at some of her wonderful creations.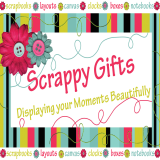 I happen to have one of her clocks and I love it. She tailored it to match my JCS logo and it hangs in my craft room still!!! She also makes some other wonderful items, that are a MUST SEE!!!
Be sure to stop by the
Roll Call message board on Blog Frog
to sign in to participate.
Hope to see you there, and if you are new to the site, please let Maryanne know that Jessica sent you!!!
:O)
Jessica