Hello and Happy Saturday to you all.
I don't have a crafty project to share just yet, but I do have some news to spread....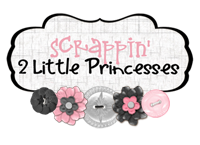 A dear, sweet, and loyal Blend of mine,
Candace of Scrappin' 2 Little Princesses
, is trying to reach a goal of 350 followers. I have been following her blog for quite some time, but I am just now learning about this goal she has set. I can't believe I missed this before.
I love visiting her blog and have gotten inspiration from her many times.
I just adore her altered gift bag projects and cards and I know you will too.
As of the time of this post,
she was at
308
I am hoping that you will trust me when I say you won't be disappointed if you stop over at her blog, become a new follower, and leave her a comment to cheer her on!!!
She has some upcoming projects that she is so eager to share with everyone, and I am just as eager to see what they are (I love surprises)!!!
Let her know Jessica sent you when you stop by. That way she will know that she is truly a dear "Blend" (Blog+Friend=Blend) and I would
LOVE
to help her reach her goal!!!

And if that wasn't enough to convince you...here's a pic of the generous candy she has up for grabs...

!!!GOOD LUCK SWEETIE!!!