Post #1 - Decorate to Celebrate: HURRY! HURRY!
Remember to visit Rhonda (aka
Scrap Happens
) and Amy's (
aka Love to Crop
) new blog
Decorate to Celebrate
for their new Challenge Blog. Mark your calendars for June 1st which will be the First Official Challenge on their new blog dedicated to showcasing and inspiring your crafty projects related to PARTYs. How cool is that? Way Cool, I think.
So get on over to their blog, Make sure to tell them Jessica's Craft Shaque sent you and don't forget to get in on the
Grand Announcement Giveaway
that ends May 31st. Awesome prizes to be given away.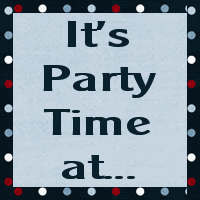 Post #2 - Inner Geek
I saw this challenge and just have to submit a LO. Do you have pictures with you sticking your tongue out, or making a silly face, or being caught doing something really nerdy? Admit it....You Do! We all Do!
Well the challenge over at
How Much is Too Much
is just that -
Challenge #172 - Inner Geek
.
I thought about using my Silly Mom LO that I just finished recently. I felt that it fit the challenge pretty perfectly...although it doesn't use all the supplies listed. :O(
Then I remembered some other pictures I had taken. So I am off to hunt for those and to get a LO put together. I do have a lot of other cool challenges that I want to enter this week, so STAY TUNED for all the finished creations!
5/25***Update Update Update
I can't find the silly pictures I wanted to use...I guess this LO will just have to wait.
Post #3 - Teacher Appreciation Project
When I asked my step daughter if she "would like to make something nice for her teacher", she said "yes". I said, "it will be for the end of school to let her know you had fun in her class." She grinned and looked at me anxious to find out what we were going to make. I gave her a few options and she liked them all. She narrowed it down to the crayon jar I had seen previously on a blog (gonna look back through to see if I can find where and give credit where credit is due). Then she asked, "can we make something for my principal, too?" I said, "sure." She continued, "Well, then I need another gift for my Teacher's Aide, too." WOW...that's a tall order. But you only get to make these memories once for each of your children, so why the heck not?
She is only with us for half of the week, so I went ahead and got a head's start on the gifts. This way she can sign her name and help with the finishing touches and it will be sure to be ready for the last day of school which is slowly approaching.
The creation is one of the two altered clipboards she requested. Not sure if she will choose to give it to her Aide or the Principal. But either way, I wanted to make it "generic" to make it easy for her to decide.
I will be entering this project in the following challenges:
You Had Me at Craft: MIMM
Anything Goes #41-BINGO
(row 3 vertical or horizontal)
Paper Playtime #46 Anything with a Charm
Paper Cutz #92 - Teacher Appreciation
I used a clipboard a purchased for $1 at Target, Kraft card stock for the front and back, and Tartan Ribbon as an edging (hot glued to clipboard). I added 2 apples that I cut with my Serenade Cartridge at 2 3/4" with all 4 layers. I placed 2 matching stickers (stack of books) at the top corners, a School Days sticker at the bottom, and several star chart stickers (again $1 at Target) around the "clip". I added one simple heart shaped charm that says "hand made with love" to give it a little personalization and several gem rhinestones here and there.