It is with great pleasure and
TONS
of excitement that I get to remind you that tomorrow
is the
Blends Join Hands Blog Hop
celebrating the 1st Birthday of Jessica's Craft Shaque! ! !
Please mark your calendars and join in on the fun
tomorrow on January 22, 2012!
I have invited my nearest and dearest Blends (Blog + Friends) to join
me in this celebration. Each Blend will take one of my past creations
and let it inspire them to create a new project!

I am so excited to see what they will be making and can't wait to "party"!
Please feel free to grab this button and display it on your blog to
encourage your friends to join in on the fun, too.

SNEAK PEEK * * * Blog Hop * * * CANDY Teaser
I am honored to have
Stephanie of Whimsical Designs
as our
Grand Prize Sponsor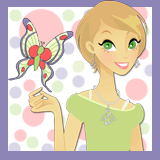 One Random Hopper will be selected to win
the
entire New Release of Whimsical Designs Stamps
This is a fabulous stamp set with wonderful and unique images and sentiments. You are
sure to find a sentiment to fit every occasion!!!!
* * * * * * * * * *
I am also honored to have Julie K of
A Little Bit of Bling
and
3 Girl JAM
as an additional Prize Sponsor
One Random Hopper will be selected to win
the entire
Valentine's Day Bundle
This ribbon is so fun to use in projects, the colors are vibrant, and
the prices are OUTSTANDING
* * * * * * * * * *
I am offering not 1, not 2, but . . .
3 Unity Stamp Goody Bags to 3 lucky Hoppers
!!!
Each bag is filled with

16 random Unity Stamps

I am also offering 2 Lucky Hoppers
1 set (5 per set) of my Handmade Corsage Pins
for you to use in your own creations
For a final prize to a lovely Hopper
I will offer one
$10 Gift Certificate to be used at
Pink By Design
? ? ? How about THOSE PRIZES ? ? ?
And, there is
SURE
to be more
awesome CANDY along the way!!!
Look forward to seeing you there!!!
Keep Crafting
:O)
Jessica