Where Oh Where did the Year 2012 Go?
~ part 2 ~
This is the 2nd part of My Trip Down 2012 Memory Lane.
If you missed the 1st post, please start there. You can find it by clicking on this link ~>
My 2012 Memory Capsule ~ Part 1
I hope you enjoy these Memory Capsule Posts I am sharing and will join me in reflecting on what the Year 2012 meant to you. I want to reflect on what each month held within its grasps, whether it be related to crafting, family, friends, or nonsense. I want to reflect to push me in to full gear when I embark on the journeys ahead of me in the upcoming year ~2~0~1~3~!
I want to set so many goals for 2013 and want more to accomplish them. I hope to bear witness to others setting and achieving their own personal goals, too. I wish to make new friends and connect with others so that we can bounce our creativity off of each other. I hope to watch the connections that were made in 2012, blossom into beautiful relationships!
I started this Personal Series of Memory Capsule Posts with my Reflections of the Months,
January through June of 2012
. Today, I start with where I left off in my last post.
This Part 2 Post will highlight my Reflections of the Months, July through December 2012. I value your input, comments, and any ideas you wish to share as a result of reading through my Blog and gazing at my pictures.
I will also share a
Personal Series of my 2013 Goals
which I will set for myself in hopes that I can always look back and revisit my accomplishments to encourage more Goal Setting further down the line. There is always room for improvement, in my book!
I will be spending some time gathering up some fun Crafty Goodies to offer as a
Giveaway
if we have enough people joining in, reading along and sharing their input. So, it wouldn't hurt to share this with your friends so they know there is a
Prize Up for Grabs
! And, I promise, I will make the Prize a
GOOD One
, so your efforts and time spent reading along, do not go unnoticed!
~~~REFLECTIONS~~~

July 2012
Altered Memo Board
So, a while back, I stocked up on an amazing deal. I ended up buying about a dozen of

this style memo board along with about a dozen of two other styles. I anticipated doing some fun altering with them and in July, I created this sparkly fun one for my sweet Step Daughter Gabriella.
I really love my Krylon Glitter Blast
July 3 Girl JAM Design Team Call
3 Girl JAM expanded their Design Team in July 2012
and
THEY ARE DOING IT AGAIN!
♦ ♦ ♦ NOW ♦ ♦ ♦
APPLY TODAY
Shaquettes gathered their talent and participated in a fun Crafty Challenge
for the 4th of July,
Red White and Blue Challenge
We had an amazing turn out number of entries and I was delighted to see so many joining in the fun!
I was eager to post the showcase of projects at the Blog and couldn't wait to announce the winners.

Here are all of the Shaquettes
entries
this is another entry we had for the challenge, but the picture was lost in cyber space.....UNTIL NOW!
Thanks for finding it and sharing it again Kathryn!!!
August 2012
Altered Chipboard Birdhouse
I posted a lot of step by step instructions on how I created this darling birdhouse. I covered it with fun papers and cute embellishments. And since School was ready to start back, I made it School Themed!
August was a wonderful month to show our LOVE for a fellow Crafter and Friend who has faced some uphill climbs during 2012. I was honored to join the efforts of
Paper Make Up Stamps
and show
Jennifer Scull
how much she is appreciated.
She is quite the talented crafter and is an inspiration to us all, to always smile and keep your chin held high!
Here is the fun layout I created in her Honor!
Head over to join in the fun...great ideas.....fun prizes!!!!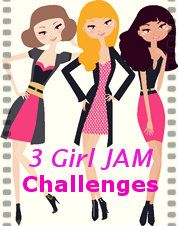 September 2012
December 2012
Since December was only a few weeks ago, I won't bore you with tons of recaps, but I will share a few of my favorite HIGHLIGHTS from the Entire Year!!!
First, I was honored to be a Growing in Unity Guest in December and here are the links to my posts each day
Day 1
♦
Day 2
♦
Day 3
♦
Day 4
♦
Day 5
AND.....Drum roll Please. . . . . . . .
the one MOMENT that topped the entire Year!
♦
♦
♦
LANCE & JESSICA
become Husband and Wife
December 17, 2012
♦ ♦ ♦ ♦ ♦ ♦ ♦ ♦ ♦
Now, I will leave you to do other fun things out in the Blogiverse.
I have really enjoyed this "Trip Down Memory Lane" and I hope you have also.
I urge you to look back at your accomplishments at your very own Blogs, to revisit the fun and great times you had Blogging in 2012! I have a new found appreciation for friends, crafty time, and those who have inspired me this year.
I welcome 2013 with a positive outlook, infinite thoughts, dreams, and hope, and invite persistence and perseverance to stand on my side.
What are your HOPES, DREAMS, & WISHES for the NEW YEAR???
Tell me below, I would love to read them!!!
Remember
to
Keep Crafting,
Because
♫ CRAFTING ROCKS ♫
\m/-_-\m/
:O) Jessica