3 Girl JAMmers
Today
is my
Design Team Day
to share

another project
with you
that I made
using the fa

ntastic
products
available
at 3 Girl JAM
Now, I am changing it up a bit to showcase how wonderful the
3 Girl JAM Crinkle Ribbon
is to work with. Not only does it make a perfect accent on your cards and layouts when you tie it into a bow, use it across the edges, or pleat it to make a border, but I have to say my favorite thing to create with Crinkle Ribbon is
Elegant Florals
With all that has been happening around the
Pinque Peacock
, I have had a chance to share a flower or two on some past projects. Many prizes have been offered out since the launch in October, and I was oober excited when a prize Winner asked me if she could request a Custom Handmade Fabric Flower. I told her to just browse around the
shop
and
project gallery
to find what she liked.
Well, to my amazement, her favorite flower was the one I used on this card,
Shake A Tail Feather
I used the gorgeous
3 Girl JAM Crinkle Ribbon
and a
Silk Covered Button
My prize winner's favorite color is
ORANGE
, so her entire prize was made with that in mind:
including this
Orange-a-liscious Loop de Loop
Made using
Harvest Orange
and
Antique White
Crinkle Ribbon.
The whimsical orange reptile print
fabric covered flatback button
is from the shop, as well.
You may also recall seeing a few other projects in the past here at
Jessica's Craft Shaque
that included these gorgeous blossoms!
Here's a quick recap to inspire you and hopefully invigorate your senses!
I will share the name of each Elegant Floral Style (EF) above each of the project pictures
Mini BowEF
Sweet Swirls EF
Pleated Petals EF
Wise WhispersEF
to stock upon some Scrumptious Crinkle Ribbon and try this technique yourself!
DON'T FORGET...You can Make a Party Related Project, use some Ribbon, and LINK UP
at
***side note....be sure to add the Challenge Blog Badge to your Blog to be considered in the drawings for the candy winners once the challenge ends! We would hate to see you not be eligible for missing this simple step***
Here, Grab it NOW!!!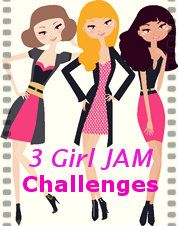 ***

New

Pinque Peacock

Release Spoiler

***
Now, just for all of my Lovely Blends who stop by to read this post, you are getting a special treat today. If you like these
Elegant Florals
and you need the luxury of having them made to order, STOP BY the
Pinque Peacock FB Page/Shop
and request yours TODAY (your choice of colors).
There is a New Release being planned to have these available at the Shop in the next couple of months, but we can work with you to get you what you need before then.
The flowers will be available in two standard sizes:
Small - approx. 1.5" in diameter
Large - approx. 2.5" in diameter
Here are just some of the colors of
3 Girl JAM Crinkle Ribbon
that can be used to create a Custom Designed Lovely Bloom!

THANKS FOR STOPPING BY TODAY
♪ ♪ JAM ON ♪ ♪
3 Girl JAMmers
╔═══╗ ♪
║███║ ♫
║ (●) ♫
╚═══╝♪♪
╲╲╲╲╲┏━━━┓╱╱╱╱╱♪
╲┏━━━┻━━━┻━━━┓╱
╲┃╭━╮┏━━━┓╭━╮┃╱♫
╱┃┃╳┃┣◯-━-◯┫┃╳┃┃╲♫
╱┃╰━╯┣━━━┫╰━╯┃╲
╱┃┈▊▊▊▊┈▂▃▅▇┈┃╲
╱┗━━━━━━━━━━━┛╲
Remember to
Keep Crafting,
Because
♫ CRAFTING ♫
♫ ROCKS ♫
\m/-_-\m/
:O) Jessica