Welcome to the 1st
3 Girl JAM Challenge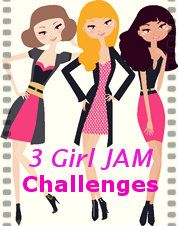 This will be the first of MANY fun challenges
We encourage you to join in the
fun and enter to win fabulous prizes
from Wonderful Sponsors.
The challenges will be hosted biweekly
on the
3 Girl JAM Challenge Blog
They will begin on Friday and will run for 2 weeks
(ending on Thursday night before the next Challenge goes live)
Hopefully this will give you plenty of time to play along!!
To play along, grab some of your fabulous 3 Girl JAM ribbon, if
you have some, and link up by the deadline: September 6th!

Today's challenge theme
is
Butteflies and Bows
Dilly Beans Digi Stamps
is our wonderful Sponsor
for Challenge #1!!
The winner of the challenge
will win
3 Digi Stamps of their choice
You also will be playing for
a bundle of your choice of Crinkle Ribbon from
AND
the opportunity
to Guest Design for a Future Challenge.
We were all given a fun Dilly Beans image
to play with for this challenge.
I chose to use
Skull Girl Bow Framed
My original intentions was
to create an altered Memo Board
for my niece Erykah.
However, some obstacles prevented
that from getting completed.
I WAS fortunate to have another niece, Jasmyn,
staying with us this past week and
she LOVES to craft.
So I showed her the cute image, she asked to help.
!OF COURSE!
She created many different
variations with her images and I love them all.
Here are the finished colored images
before she made her projects.
I am in awe over her level of creativity!
She is 17 years old and a blessing to craft with.
She doesn't let you peek at it
until it is completed.
A true crafter, right????
I will try to take time throughout the
week to share her other
finished projects with all of you!
Here is the card she created to Kick Off the 1st Challenge
Supplies
Core'dinations Glitter Couture - Black
Core'dinations - Produce Green
K&Company Embossed Specialty Paper (yellow and red)
Whisper Strokes Dual Tip Watercolor Markers
Star Bling from Want2Scrap
Alphabet Stickers from stash
3 Girl JAM Crinkle Ribbon
Witch's Brew-Purple from the Spooky Bundle
Ice Blue - from the Hot & Cold Bundle
K&Company Journal Tag (inside)
Butterflies from stash
Here is the inside of the card. Simple, but quite fitting
for the theme of her coloring!
I hope you enjoy her card and don't forget
to link you projects up
to win
3 Digi Images from Dilly Beans Stamps!
Keep Crafting
:O)
Jessica