Well, I am a day late in celebrating, but
I didn't let that stop me from
creating with
my favorite
Red Rubbah Stamps
They hosted 8 challenges yesterday
in celebration of
World Card Making Day
at their wonderful
Each challenge was a
great opportunity
to get out my stamps and play.
I feel like I had been neglecting them
for far too long...LOL
You might ask, "Why start in the middle?"
Well, I went for
a small shopping trip to my LSS last night
to get adhesive and found
an adorable Fall Word Art
Embossing Folder by Darice for $1.00.
My card base is Kraft card stock (5x7 folded)
I decided to spray the embossing folder
with some of my Olive Green Smooch Spritz.
Then I sprayed a tad bit of water over that for even coverage.
I wound my Natural Color card stock by Wausau Paper, through my Big Shot.
While that was drying
and got inky.
*ENABLER ALERT*
This set is currently on sale at Unity
for 47% off -
That's ONLY $9.99.
I inked it up the word art sentiment from the set
with my new Ranger Big and Bossy embossing ink pad
then sprinkled red embossing powder over it.
I grabbed a small paint brush and put a light coat of the embossing ink
on one of the raised leaves on my embossed card stock.
While that waited for me, I dipped my sentiment mat (wood grain paper)
in the ink and sprinkled gold embossing powder over it.
I used the same technique on another leaf, just with the gold this time.
After heat embossing all of these areas, I decided to add a bit of orange
embossing powder around the edge of my sentiment.
The fall leaf paper in the background (and wood grain from earlier)
is from the K&Company set Pumpkin Pie.
I inked the Thank You in Vintage Photo, then inked around all the
edges of any card stock that was left untouched.
I raised both sentiments on the front up from their mats
using 3D foam squares.
I added some Halloween Harvest Crinkle Ribbon
from
3 Girl JAM
behind the embossed mat and the word art sentiment.
I then inked the Blessings...sentiment and created a mat
from the same leaf card stock on the front.
This was for the inside sentiment of the card.
A few green pearls, and the card was complete.
**2nd ENABLER ALERT**
for only $6.99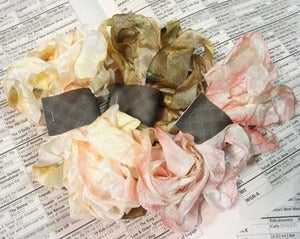 Then get crafty with your ribbon
and enter the new
Thank You so Much for stopping in
to see my card and I sure hope you enjoyed it!
Remember
to
Keep Crafting
:O)
Jessica