Hey there Blends and 3 Girl JAM-mers
!!! HAPPY NEW YEAR !!!
I want to take a minute to pause and wish for a great abundance of blessings to shower my friends and family with the start of the New Year.
Here's to GOOD HEALTH, CHEER, & LOADS OF INSPIRATION!!!
One such wish goes to Sweet Julie, Owner of
3 Girl JAM
. For me, 2013 was a wonderful year, full of fun and excitement as I participated on the
3 Girl JAM Design Team
.
THANK YOU & BLESSINGS TO YOU SWEET JULIE!!!
I was thrilled to have the opportunity to be a part of such an amazing team full of other talented and sweet Design Team Members and to be able to play creatively with all the fabulous products from the
3 Girl JAM Shop
.
My wish for abundant blessings is directed to each and every one of the girls, past-present-and future, on the team as well.
I wanted to play along in the current
3 Girl JAM Challenge
, which is to create Holiday Gifts using ribbon. Since Christmas is passed, my focus for my project leaned more towards the New Year. The gift is one to myself, but which will blossom into a gift for many others.
On many occasions, I have been inclined to write down names of friends who could use prayers or thoughts of well wishes during certain trials they may be facing. This gave me an idea to alter another notebook, one of my favorite things to create. The idea was to alter the book and adorn it with soft crinkle ribbon colors, paper flowers, and other sweet embellishments so that it could serve as a Prayer Request Journal. This would keep the names of all those I will be mentioning in my prayers and well wishes organized and not to be forgotten!
I used a pearl colored card stock for the cover and stamped a corner flourish on the front top and bottom corners. The addition of the flat back pearls made my corners less bare too.
I added the bind using another card stock with a metallic foil design, eyelets and coordinating twine.
Have you ever started using crinkle ribbon and found it hard to STOP?!?!?!
That happened here. The more I used, the more I wanted to keep adding to the bind.
For this Prayer Journal I used:
Witches Brew
Ribbon Candy Green
London Blue
Hidden within the bouquet, you will find a handmade Pleated Petal made from the Witches Brew Crinkle Ribbon, too.
A few more eyelets and some crinkle ribbon to tie my Journal closed.
A matching bookmark with the same design and of course, more crinkle ribbon! The
Cross Charm
added to the top of the bookmark is one of the new one products that I just added to the
Pinque Peacock Discount Hut Shop
(along with other styles of charms and cool crafting supplies)
I am pleased with this finished project because I know how much it will help me to KEEP MY FRIENDS IN MIND OFTEN!!!
There is still time to JOIN THE CURRENT 3 Girl JAM CHALLENGE
The THEME is
HOLIDAY GIFT + RIBBON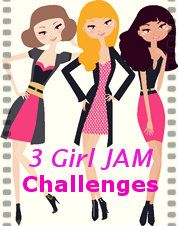 You'll always find
LOADS of inspiration
at the
3 Girl JAM Challenge Blog
!
Stop over for wonderful ideas from the Design Team
and all those linking up!
Another way to get wonderful ideas, check out
the
3 Girl JAM Pinterest Boards
!
Thanks for Stopping In Today
Stop by
3 Girl JAM
to shop around
and place an order
for any of the amazing products that are
a MUST HAVE in your stash!
Remember
to Keep
Crafting,
Because
♫ CRAFTING ♫
♫ ROCKS ♫
\m/-_-\m/
:O) Jessica