Today is my Design Team Day and
I am sharing a quick card
showcasing a few of the newer
products available at
3 Girl JAM
I wanted to play along in the current
3 Girl JAM Challenge
, so I decided to alter a heart box
to be given as a Christmas Gift.
For my Decorated Heart Box:
I used a paper mache' heart box (available at Pinque Peacock)
and covered it first with some
darling Bo Bunny paper (Rejoice 6x6 paper pad).
I pleated some Halloween Harvest Ribbon from the
Seasons Bundle
along the outer edge of the lid.
I also created a matching Pleated Petal flower and put a fun
Christmas Flair Button
in the center.
A Simple and Quick Gift
and I think it is Darling!
You Should JOIN THE CURRENT 3 Girl JAM CHALLENGE
The THEME is
HOLIDAY GIFT + RIBBON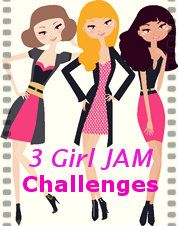 You'll always find
LOADS of inspiration
at the
3 Girl JAM Challenge Blog
!
Stop over for wonderful ideas from the Design Team
and all those linking up!
Another way to get wonderful ideas, check out
the
3 Girl JAM Pinterest Boards
!
Thanks for Stopping In Today
Stop by
3 Girl JAM
to shop around
and place an order
for this Wonderful Jute Pack!
or some Beautiful Ribbon!
or a bundle of State Line Bags!
or some adorable FLAIR Buttons!
or any of the other amazing products that are
a MUST HAVE in your stash!
Remember
to Keep
Crafting,
Because
♫ CRAFTING ♫
♫ ROCKS ♫
\m/-_-\m/
:O) Jessica