My post is going to be short and sweet today
for my
3 Girl JAM
Design Team share!
My camera was being uncooperative when I tried to get a few pics,
so I wasted more time than I should have in that "department"...lol
I was playing in a fun Speed Craft challenge a short while ago and
of course, my thought was to grab the GORGEOUS
3 Girl JAM Crinkle Ribbon
to use in a "flash".
We only had 5 minutes after being given the "ingredients" to have a finished card.
Here were the Rules & Ingredients
MAKE A CARD
BLUE BACKGROUND
BIRD
POEM OR QUOTE
BROWN RIBBON
EMBELLISHMENTS OF CHOICE
I started with some Recollections card stock (Soda Pop 8.5 x 11 paper pack) which I had already in my stash, folded and ready to be made into a card.
I grabbed one of my metal Peacock embellishments and adhered it just above the quote I found in a quote stack from the drawer.
I glided a line of ATG adhesive across the bottom of the card in order to pleat my
Latte (Brown) Crinkle Ribbon
(Coffee Bundle).
I added a square purple button to tie the left side of the card in with purple part of the quote on the right side....
AND....
Wah Laa....
a 5 minute card!!!!
I love the CAS feel to it and adore how much the
Crinkle Ribbon
added a "touch of class" to it!
Now, be sure to head over to the
3 Girl JAM
store to grab up
on the Fabulous Bundles of Crinkle Ribbon
but
Make sure your browse the shop for all the other COOL Products you can purchase there too!
If you are looking for a FUN Crafty Challenge,
You Should JOIN THE CURRENT 3 Girl JAM CHALLENGE
The THEME is
TIS THE SEASON + RIBBON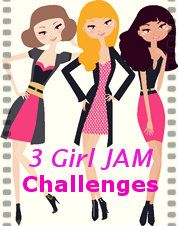 You'll always find
LOADS of inspiration
at the
3 Girl JAM Challenge Blog
!
Stop over for wonderful ideas from the Design Team
and all those linking up!
Another way to get wonderful ideas, check out
the
3 Girl JAM Pinterest Boards
!
Thanks for Stopping In Today
&
Remember
to Keep
Crafting,
Because
♫ CRAFTING ♫
♫ ROCKS ♫
\m/-_-\m/
:O) Jessica