!!! HAPPY MONDAY !!!
Blends and 3 Girl JAM-mers
I am happy to be the Design Team Member posting at the
3 Girl JAM Blog
today!
It is such an honor for me to be a part of this team from the first Hoorah! I can't foresee me every departing. I have a MAD CRUSH on Julie K's Crinkle Ribbon and do not have a desire to seek any type of recourse for the addiction. (LOL)
Here is the Project I am sharing:
This card took about 10 minutes total to put together, which is quite the record for me. I tend to always want to add "more" as I craft, but this time, I forced myself to stop sooner. I would like to try my hand at "speed crafting" a lot this year. It will help me to get more projects completed and open the door for me to try my hand at tackling more of the fun techniques on my "to-do" list.
I started with a 5.5 in. x 5.5 in. Purple Card Base
--- David Tutera:
Celebrate
Card Sets
(several of the DT Card sets are available at the
Pinque Peacock Discount Hut
)
The Peacock Feather patterned paper was cut at 5.25 in. x 5.25 in. and distressed around the edges using my Tim Holtz distressing tool!
--- Recollections
Signature Serious
PRETTY AS A PEACOCK 12X12 stack
(This was a fabulous gift from my Sweet Crafty Friend
Heather F.
---thanks Heather :) )
The sentiment tag is also from the same Pretty Peacock stack and was cut to fit within the center of my card. I simply masked it with a lighter shade of purple card stock then used some foam squares to give it some height on the front of the card. I love that glittery peacock, don't you?
I used the
Ribbon Candy Red Crinkle Ribbon
from the
3 Girl JAM Shop
to create a sweet
Pleated Petal - Elegant Floral
for my card.
I love making these flowers for the
Pinque Peacock Shop
Customers.
It's always fun to use them on my own creations, too.
I adorned the elegant floral with a
Pearl Beaded Stick Pin
(also from Pinque Peacock) and a few paper roses from another sweet crafty friend, Adele, who sells them!
The Newest
3 Girl JAM Challenge
is
ANYTHING GOES with Ribbon!
A Crowd Favorite!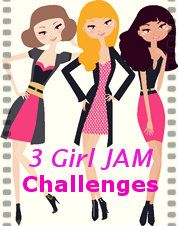 You'll always find LOADS of inspiration at the
3 Girl JAM Challenge Blog
!
Stop over for wonderful ideas from the Design Team and all those linking up!
And, since the challenges have been changed from biweekly to MONTHLY, you will have until January 31st to Link your Anything Goes Projects and JOIN THE FUN!!!!
~*~*~ AWESOME DISCOUNT ALERT ~*~*~
Stop by 3 Girl JAM to shop around and place an order
for any of the amazing products that are
a MUST HAVE in your stash!
SAVE 10% OFF Your Order ---Just use the Discount Code JB10 during checkout!!!
Thanks for Stopping In Today

Remember
to Keep
Crafting,
Because
♫ CRAFTING ♫
♫ ROCKS ♫
\m/-_-\m/
:O) Jessica