Ellen aka CardMonkey
is having a celebration at her blog. If you need to wake up....stop by her blog....I guarantee you will be dancing in less than 2 minutes!!! LOL. Depending on which song is playing, you may also get goosebumps and feel overwhelmed with pride to be American! Ellen is extremely talented and is always giving from her heart. I am pleased to be joining her in January for a Love Bug Banners Blog Hop. The completed b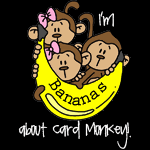 Ellen is so very close to reaching 1,000 followers and has set a goal to reach this by the time the Ball Drops in Time Square.
Can you help her out? What's in it for you? Well, you help out a crafty friend and get entered to win an awesome prize.....a pink ATG gun!!!
So what are you waiting for? Head over to
Ellen's Blog
, Become a Follower, Dance a Little, and enter her Giveaway.
Please let her know that Jessica's Craft Shaque sent you, too!!!
:O) Jessica