I am honored to be joining Gopi today as a Guest Designer at
Create Me Pink!!!!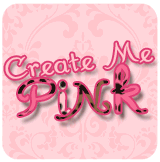 I have been following
Gopi's blog
since the beginning of October and I am absolutely amazed each and every time I stop by to see her creations. Gopi started hosting challenges at the same time I was introduced to Create Me Pink and I have tried very hard to participate in each one of the challenges so far. I have been able to enter one creation for each challenge so far!!! Then when Gopi contacted me, asking me to be a GDT, I jumped at the chance to help her. Gopi informed me that the challenge required me to use a digi stamp provided by her and it could be used to make a card, layout, or any other paper crafts project.
I chose to make a card. I had won the Preserves Cartridge as a challenge entry prize back in June at
Lindascreativity
and hadn't got a lot of use out of it yet. And since the image Gopi provided was an adorable Jar of Strawberry Jam and Strawberries, I got the cartridge out and dusted it off. I cut my red card stock from the Strawberry Card Feature (shift) on the cart at 5 1/2". I also cut the first layer of the Card Feature, but chose to set that aside for a future creation. I then hand cut my green card stock, white card stock, and strawberry design paper (from the DCWV Summer Dream Stack) using the Creative Memories cutting mat, slider, and blades. I chose to use a sketch from
Deconstructing Jen
(love her sketches!!!) for the current challenge that has no time limit to submit your entries as this week is Just For Fun! I inked the edges of all my layers with Studio G inkpads in Green and Red). I printed the image twice. One layer for the bottom and one for the top. After coloring Gopi's image with my Dual Tip Whisper Strokes Watercolor Markers by Sugarloaf, I used a distressing tool and cotton pad to brush over the entire image with my red ink. I then brushed over the second image using the same technique (without coloring it first). I fussy cut both images and paper pieced them together using mini foam squares. After the ink dried on the image, I added Glossy Accents to the Jar to give it a more realistic appeal. The sentiment at the top of the card was created by cutting out the bottom (title) of OScrap! Cardz Die Cut and then fussy cut and adhered to the same green card stock used before. I finished the creation by creating a dot stitching around the edge using my white Gel Pen.
I am entering the following challenges with my card:
The Outlawz - Twisted Thursday: Things We are Thankful For (TT110)
Anything Goes - #53 A Real Sweetie
Cardz TV - #95 We're SoThankful
Deconstructing Jen - Sketch #27 DS27
I hope all is well with you and yours and hope you are looking forward to the Holidays!!!
Keep Crafting
:O)
Jessica