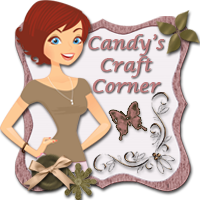 Candy at Candy's Crafty Corner is celebrating a few awesome achievements....
Her beautiful blog makeover created by Chris at Get Inspired with ChatterScene.

3 months of Blogging
Please join me in congratulating Candy on 3 months of blogging. We all know the first 3 months could be "do or die" when it comes to the world of social blogging. Also, join in on offering your kind words about how beautiful her blog makeover turned out. Chris always does fantastic work and Candy is another satisfied customer.
To celebrate, Candy is offering this awesome package of goodies....
Wonderful, isn't it!!! So go welcome Candy, congratulate her, offer some kind words, enter her giveaway, and while you are at it, stop to see Chris and congratulate her on a job well done!!!
Happy Crafting!!!