!!! HAPPY MONDAY !!!
Blends and 3 Girl JAM-mers
I am happy to be the Design Team Member posting at 3 Girl JAM today!
I was super excited to get to play around and create a Mixed Media Tag for a swap I am in with a fun group on FB. I spoke with my swap partner about her "favorites" and she was super sweet to give me a lot of ideas to work with. As soon as she said "pinks, blues, silvers, whites, and greens", I grabbed the NEW Lace from 3 Girl JAM!!!
This lace is beyond Gorgeous and I can't wait for it to be released so all my friends can play with it in their creations, too. The colors are scrumptious and I adore the mixed colors Julie created and will have available!
Now, because I didn't have any "official #10 Tags", I improvised. I grabbed for my medium thick chipboard and cut out my tag shape at 4 1/8" x 8 1/2" to meet the swap requirement. Alexandra, my swap partner, was so understanding and okay with the idea of a more sturdy tag! YAY!!! (I didn't think to take a pic of it before I started, though....DOH!)
I first painted a thin coat of white acrylic paint on both sides of the chipboard and let it dry.
I wanted a lot of texture and dimension, so I grabbed for my Studio Calico "Huey's Masks (elongated hexagons)" and my gesso. I placed the mask flat and at an angle, then took a plastic spatula to spread on the gesso. After smoothing it out, I lifted the mask and allowed for the gesso to dry before my next phase.
I sprayed a thin mist of Colorbox Spritzer - Glacier Lake on the surface. Because it was a very dark tone, I sprayed a tad of my Pink Perfect Pearls and then wiped some of the excess spray with a paper towel, using single strokes from the top of the tag to the bottom.
I wanted to spray a bit of my "homemade" pink spray next, but I couldn't get my mister unclogged (LOL). Again, I improvised. I tapped the tip of the spray "straw" onto the tag in various places. I loved that the drops followed a path down the indentations of hexagons from the mask I used. So, I continued this step several times until I got my desired effect.
I sprayed a bit more of the Glacier Lake again and wiped off the excess. I then used a little of my "homemade" green mist in the lower left and upper right corners to offset the blue and pink a bit.
Now, to show the colors of the lace against my semi-finished tag. GORGEOUS, RIGHT?
I wanted to stick to the colors Alexandra requested and started hunting for some gorgeous elements to use on the tag. I grabbed my new doilies and my beautiful metal embellishments from Miriam's Crafting Supplies along with one of my absolute faves from her shop....flat back pearls.
I sifted through my entire stash of designer papers, not really certain which ones I would use, but selected some that were matching the color scheme I was working with.
Before I applied any embellishments, I decided to stamp and emboss a gorgeous rose bouquet first. I used the bouquet of roses from the Echo Park set called "better with love" by Unity.
I used a white embossing powder and staggered my image several times around the entire tag.
To give the entire tag more, I went around the outer edge with some of my Distress Ink - Vintage Photo.
I started to embellish the tag first, by pleating and adhering the wider blue/green lace just under the hole at the top.
For the center of my tag, I first adhered the small silver doily to be a backdrop for the Spellbinders Fleur de Lis Squares I cut with my Big Shot.
I also cut a 2" circle with my hand punch. I inked the edges of all cuts with my Distress Inks in Tattered Rose, Shabby Shutters, and Weathered Wood.
I picked out the Eiffel Tower stamp from the Unity 12/12 KOM, "Everyday Fairytale" and inked it with some Embossing Ink.
I fussy cut around the edges and placed that onto my layers in the center of my tag.
To give more depth to the center layers, I placed some of the flat back pearls around the edge of the circle that was still exposed and looking quite bare.
I love the added color this gave the area and wanted more . . . . more is better, right? The metal corner embellishments gave me the same desired effect and added more dimension, too.
I added the same colors of pearls to the lower corner of the tag and decided I could put them away!
I created a cluster of paper flowers below the tower after adding some larger white corner embellishments to the bottom left and the upper right (just under the pleated lace) of my tag.
I added a small grouping of flowers to adorn the top corner, too.
3 Girl JAM Shop
.
I created a triple bow on my
3 Girl JAM Bow Maker
using the Red & Blue Mixed Ribbon from the
Red, White & Blue Bundle
along with the Christmas Candy Ribbon from the
Seasons Bundle
.
Using some twine, I added a key charm to the center of the bow as I was making it with the Bow Maker. A final touch --- adding the binder ring!
ALL IN ALL, I give Mixed Media Projects a TWO THUMBS UP!
Now, if only I could conquer the management of more time to work with Mixed Media, I would be ONE ECSTATIC CRAFTER!
The
3 Girl JAM Challenge
for the month of January is
ANYTHING GOES with Ribbon!
A Crowd Favorite!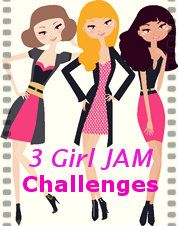 You'll always find LOADS of inspiration at the
3 Girl JAM Challenge Blog
!
Stop over for wonderful ideas from the Design Team and all those who are linking up! The Challenge will remain open until January 31st .
We'd love for you to Link your Anything Goes Projects to JOIN THE FUN and for a chance to WIN a Gift Certificate to Shop at 3 Girl JAM!!!!
~*~*~ AWESOME DISCOUNT ALERT ~*~*~
Stop by 3 Girl JAM to shop around and place an order
for any of the amazing products that are
a MUST HAVE in your stash!
SAVE 10% OFF Your Order ---Just use the Discount Code JB10 during checkout!!!
Thanks for Stopping In Today

Remember
to Keep
Crafting,
Because
♫ CRAFTING ♫
♫ ROCKS ♫
\m/-_-\m/
:O) Jessica