HELLO Sweet Blends
~ ~ ~ ~ ~ ~ ~
I have lists upon lists in front of me at all times. One would think, I would be "On The Ball" a little more than I was today. I inadvertently missed my scheduled posting day at the
3 Girl JAM Challenge Blog
.
OOPSIE DAISY!
Thank goodness Julie doesn't like to see head's roll, because mine would have went for one heck of ride!
My apologies for missing my deadline.
The UP SIDE to my Blunder?
I was forced to stop everything I was doing and make some time to play in my craftroom!!
A midst all the exciting things that are in full swing with the
Pinque Peacock Blog
and the
Pinque Peacock Shop
, my crafting time for fun is few and far between. So, I am thankful for the "push" of motivation Julie offered me to post for
3 Girl JAM
today.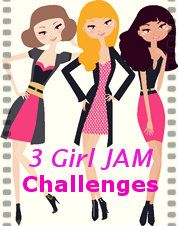 The current 3 Girl JAM Challenge is to
Use a Digi and some Ribbon
Sassy Studio Designs is a Prize Sponsor
~~~the winner will get 4 digis of their choice from Sassy Studio Designs
and
a gift certificate for $10...wowza...to shop at
3 Girl JAM
~~~
This challenge will end on May 23rd
I have had this wonderful Digital Coloring Page from an artist I admire a lot. It is called "Sapphire Night" by
Carissa Rose Art
. She is so talented and self taught. Quite an inspiration for any Newbie Artist that is trying their hand at dabbling in new forms of expression. I happen to be lucky enough to own one of her Original Pieces along with some new Prints that I just recently added to my collection.
So, my card is a Tribute "Thank You" to Carissa, to let her know, Her Art makes me quite Happy!
I printed the image on kraft cardstock and colored it using my Prisma Color Pencils. I fussy cut around the edge to give the image more depth against the background of Gold (Co'ordinations Pearls) and Purple (from my stash) card stock. I used a corner punch on the purple mat. I used my Peacock feather Embossing Folder on the gold mat. Another hand punch to place behind my small flower and a corner punch on the sentiment tag. Sentiment is by
Unity Stamp Co.
(inked and heat embossed).
The large and small flowers on my card are Elegant Florals which I have handmade using the
Ever So WONDERFUL
3 Girl JAM Crinkle Ribbon
.
The large flower is a Loop de Loop using
Gold Crown
and
Dress White
.
The small flower is a Pleated Petal using
Sterling Silver.
I simply added a bit of Purple and Gold Ink to distress the ribbon a bit. This ribbon has so many possibilities. It really is a MUST HAVE for your Crafty Stash. A little bit goes a long way, but I must warn you - IT'S SO DELIGHTFUL, many have been known to become Addicted! Just Sayin' LOL
These
Handmade Elegant Florals
, and MANY MORE embellishments for crafting, are available for purchase in the
Pinque Peacock Shop - HERE!
I also added a little extra flair for her Already Dazzling Hairstyle. I added a 3/4" flat back
Peacock Silk
(how could I not?)
Fabric Covered Button
which can also be purchased at the Pinque Peacock Shop.
LINK UP YOUR PROJECT TODAY

I hope you feel inspired by my card today!
Keep Crafting
Because
Crafting
Rocks
\m/-_-\m/
~Jessica B.