Welcome to the 3 Girl JAM/Creative Inspiration Paints blog hop!
If you came from
Kendra's
blog then you are in the right place.
If not and you would like to start at the beginning, please go here (
http://www.3girljam.blogspot.com/
).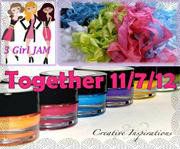 3 Girl Jam
and
Creative Inspiration Paints
have teamed up to show you all the fun things you can create with ribbon and paint! Make sure to check out our stores to see the latest and greatest products that you can use on your own projects!
I really enjoyed pairing up the fabulous Creative Inspirations Paint
with my undeniable love for 3 Girl JAM Ribbon.
I started with Kraft Cardstock and stamped
the wonderful Christy Tomlinson Image, SHE leaped by Unity
using Archival Black Ink.
I used all the colors that CIP was so generous to send
me for this Hop!
Thanks CIP!
The colors used were:
Sapphire, Mocha Latte, Tutu Pink,
Fairy Dust (<<<love this>>>)
Sea Foam, and Orange
.
I painted several layers until I got the effect
that I was hoping for.
I loved that the dress pattern matched
a wonderful
Chevron Canvas Strip
from 3 Girl JAM.
I added a small piece to the left and to the right,
trimming to flow along the outline of her dress.
I also used the beautiful
Christmas Candy Crinkle Ribbon
to tie around the waste of the dress.
If you are wondering where
I obtained the cute little pink
fabric flower and guessed
Pinque Peacock . . .
then you would be correct!
PRIZES: 3GJ and CIP will each offer a prize.
3GJ-
$25.00 Gift Certificate
CIP-
5 Paint Colors of Winners Choice
How to win: You must be a follower of CIP and 3GJ's blogs.
You must also comment on every blog in this hop.
For an additional entry: LIKE CIP and 3GJ on Facebook then go back to those two blogs and let them know you liked them on Facebook.
Your next stop is the lovely and talented, Cheryl
3GJ
will be having a sale that will be running
from 11/7/12 to 11/11/12.
25% off orders of $10.00 or more.
Here is the final Line Up in case you find yourself needing it
Remember to
Keep Crafting,
Because
♫ CRAFTING ♫
♫ ROCKS ♫
\m/-_-\m/
:O)
Jessica