Welcome Blends and 3 Girl JAM Friends!!!!
Happy Monday to all of my friends and readers.
I am the Designer up at the
3 Girl JAM
Blog today and I have a quick card to share with you!
The first Day of Spring arrived last week. Well, as far as the calendar was concerned, it did. But it is still a frosty morning here in Ohio.
I grabbed my scraps and sifted through for the colors of the challenge....
I found a few to work with and quickly created this card!
and
work perfectly to offer a great Spring Bounce to this card.
I got to play with my new Dies that I received this past week, too!
The
3 Girl JAM Challenge
for the month of February is
"Yellow, Green and Orange"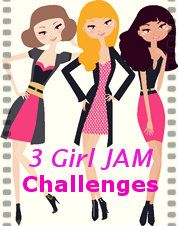 You'll always find LOADS of inspiration at the
3 Girl JAM Challenge Blog
!
Stop over for wonderful ideas from the Design Team and all those who are linking up!
We'd love for you to Link your Projects to JOIN THE FUN and for a chance to WIN a Gift Certificate to Shop at 3 Girl JAM!!!!
$$$ SAVE $$$
~*~*~ AWESOME DISCOUNT ALERT ~*~*~
Stop by 3 Girl JAM to shop around and place an order
for any of the amazing products that are
a MUST HAVE in your stash!
SAVE 10% OFF Your Order ---Just use the Discount Code JB10 during checkout!!!
Thanks for Stopping In Today
Remember to
Keep Crafting,
Because
♫ CRAFTING ♫
♫ ROCKS ♫
\m/-_-\m/
:O) Jessica