!!! HAPPY MONDAY !!!
Blends and 3 Girl JAM-mers
I am excited to get to share my project with all of our lovely followers at the
3 Girl JAM
Blog today!
Today is not only my birthday, but also my sweet Twin, Jennifer's birthday, too.
this was a perfect way for me to show how much I LOVE HER!!!!
Jennifer is my BEST FRIEND in the whole world. She has been by my side from Day 1. She is a wonderful support to me during some of the most difficult times, and an amazing encouragement to me on the Good Days too! My life would not be the same without her!!!
HAPPY BIRTHDAY SISSY-FER!
Here is the finished wall hanging.
Aqua Splash
so that it could be hung on a wall, cabinet, or anywhere her heart desires. I left a few "frilly" ends to give it a bit more character.
I then used
to offset the light color of the Aqua Splash.
I tied small pieces of the same colors to the wood shape (from Unity Stamp Co.). The wood shape coordinates perfectly with the stamp set I used for the sentiments on this project. The Unity Stamp Co. set is called
...birthday jubilee
by artista, Lisa Arana.
The sentiment was stamped first with embossing ink and heat embossed using Tim Holtz vintage photo Distress Powder directly onto the wood.
I also used the "happy birthday" pennant sentiment from the same set over on the left side of the wall art.
The image of the two Besties is by the wonderful Sherri Baldy and is called
"Kickin Back"
This is only the 2nd time I have used my Spectrum Noir markers, but ----WOW do I love them!!!
I have a lot of learning to do with them, but they are sooooo super fun!
(some IN STOCK and others are available for PREORDER)
Other products I used include:
American Crafts brand Pigment Ink (Lavender and Powder)
Paper Roses from Adele Garcia (at Glimpz of Memories group on FB)
Pearls Cardstock by Core'dinations (golden pearl and pink baby pearl) ---also available at
Scotch ATG gun and tape
and
Staples
JOIN THE FUN CHALLENGE - THERE IS STILL PLENTY OF TIME!!!!
The
3 Girl JAM Challenge
for the month of February is
"THINGS I LOVE"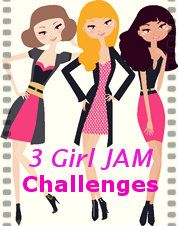 You'll always find LOADS of inspiration at the
3 Girl JAM Challenge Blog
!
Stop over for wonderful ideas from the Design Team and all those who are linking up!
We'd love for you to Link your Projects to JOIN THE FUN and for a chance to WIN a Gift Certificate to Shop at 3 Girl JAM!!!!
ONCE AGAIN......
~*~*~ AWESOME DISCOUNT ALERT ~*~*~
Stop by 3 Girl JAM to shop around and place an order
for any of the amazing products that are
a MUST HAVE in your stash!
SAVE 10% OFF Your Order ---Just use the Discount Code JB10 during checkout!!!
Thanks for Stopping In Today



Remember
to Keep
Crafting,
Because
♫ CRAFTING ♫
♫ ROCKS ♫
\m/-_-\m/
:O) Jessica