Hey there Crafty Blends and 3 Girl JAM-ers
Today is my day to post as a
DT Member with 3 Girl JAM
I created a fun Back to School Card for a Teacher!

The current challenge at the 3 Girl JAM Challenge Blog is:
That's right we want to see ALL those awesome projects using Kraft card stock and ribbon!!!!
(pssst....play along to win an awesome prize from 3 Girl JAM)
I used a Kraft Envelope and some Kraft Card Stock.
I recently grabbed up some fun bargains at Unity Stamp Company (aka "My Favorite Stamp Company") and couldn't wait to get inky with these sweet set called Jen girl.
She is just one of the adorable angieGirl stamps available at Unity and created by artist
Angie Blom.
I love using my 3 Girl JAM Crinkle Ribbon as a closure on my altered journals and this influenced my decision to use it here...
I am a huge fan of Paper Piecing and wanted to try some of my very neglected paper stacks.
I decided to use Greens and Golds/Yellows from my stash of 3 Girl JAM Crinkle Ribbon since those are our School Colors here in Amherst, OH.
I won't bore you with too many details, but if you have any questions, please feel free to leave me a comment here and I would love to stop by and visit your blog, too.
This took lots and lots of fussy cutting, a little bit of Zig Glue, and some TH Distress Inks to finish it.
I am happy that it turned out as I envisioned it.
I just hope my sweet daughter's Kindergarten Teacher loves it on their First Day of School next week, too.

And, would it be a post from me if you didn't see Mini Bows and Pleating on my project, right???
LOL
I used the 3 Girl JAM Bow Maker
to make the bow on the card and the fun bow in the Teacher's Hair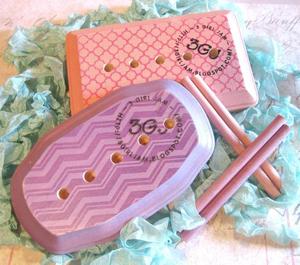 Stop by 3 Girl JAM to place an order for this Beautiful Ribbon - You won't be sorry to have it in your Hands as you Create!
If you need more inspiration, be sure to peek back at all the Work the DT Members have been sharing since the start of the challenge!
They are Top of the Class!
~~~~~~~~~~~~~~~~~~~~~~~~~~~~~~~
Every Challenge has some rules-
~~ to qualify for the prizes, please make sure to follow ours~~
We've had so many great entries but we must stress- rules are rules.
1. Use ribbon and follow the theme for the challenge.
Challenge #20~Birthday Party w/Ribbon
(you do not need to use 3GJ Ribbon - but if you have some we would love to see it!!)
2. Follow the 3 Girl JAM Challenge blog.
3. Add the 3 Girl JAM Challenge button to your side bar.
4. You will have 3 weeks to link up your entry
(last day to enter will be July 4th , Winner will be announced on July 5th.)
5. Be sure to link up to your blog post and not your blog.
(It will make it much easier for the design team to leave you some love!)
~~~~~~~~~~~~~~~~~~~~~~~~~~~~~~~
This week's challenge is being sponsored by:
with a $10.00 Gift Certificate to 3 Girl JAM


Remember to Keep Crafting,
♫ CRAFTING ♫
♫ ROCKS ♫